When installing the Overflow app, the Sketch plugin is automatically installed too. When you select artboards, you see it in the right panel like this.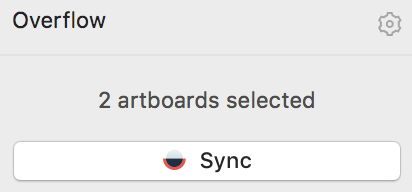 Alternatively, you can find it under the Plugins menu in Sketch.
When you choose to sync artboards to Overflow, you get to select the particular Overflow Document and Board. Additionally, you can select your artboard density (the pixel density you design your artboards in) and the density you'd like to export in. Note that artboards are identified by their name. During syncing, artboards are converted to Overflow Screens.
Artboards with the same name in the destination Board will be replaced. This can be particularly useful when you want to update designs in your Overflow diagrams.